HEFLIN — Two men were in the Cleburne County Jail facing drug trafficking charges Tuesday after Heflin police found eight pounds of pot in the car they were driving.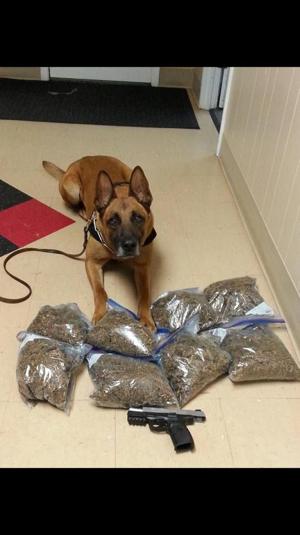 Police pulled over Reginald Gates, 33, of College Park, Ga., and his passenger Jaquay Liggion, 34, of Carmichael, Calif., for speeding in a construction zone near mile marker 205 on Interstate 20 at about 5 p.m. Monday. When the officer approached the vehicle, he smelled "an overwhelming masking odor" in the vehicle, according to a statement released by police. Investigator Josh Barnett said a masking odor is a very strong air freshener sold to mask the odor of marijuana.
When the officer asked for identification, Liggion allegedly gave a false name. The officer ran the two men's names through a national network to see if they had ever been arrested on drug trafficking charges and called for backup so he could search the vehicle.
"We never search alone," said Heflin police Chief A.J. Benefield.
When the backup arrived, including police dog Jedi, the officers requested permission to search the car, but Gates refused, noting the presence of the dog.
Jedi circled the car and indicated that he smelled something at the rear of the vehicle, police said. Officers then searched the trunk and found a white trash bag with eight plastic bags allegedly containing marijuana and a book bag containing a semi-automatic Smith and Wesson pistol.